Investment
Market Updates
The Death of Bond?, 01/10/2021
Finally, we get to see the next instalment, but I'm sure it won't be the last. How much trouble is Bond in and will he make it through the movie?
US and UK government Bond prices have been under pressure again with yields on the rise in the last few weeks. Dame Sara Gilbert's comments in September that Covid 19 will ultimately become like the common cold was substantial reassurance over the long-term prognosis. Shorter term supply chain issues around the world are also clearly putting pressure on prices and will create a rise in inflation. It remains to be seen whether this will be a short term spike or create sustained higher inflation but it has lead to a more hawkish mood from both the US Fed and Bank of England with both of them considering bringing forward base rate rises.
As we approach the twelve month anniversary of the vaccine announcement the chart below shows just how much trouble the average Bond has been in!
Vanguard's popular UK Government Bond Index ETF has lost 7.5% in the last year; this fund holds £4.4bn of investor's money. One of the most popular UK corporate bond ETFs run by iShares has lost 1% in a year and as of yesterday there was just under £2bn in this tracker fund.   With yields on a 20 year UK government bond now at around 1.35% (it got as low as 0.5% in the summer of 2020) and less than half the expected rate of inflation, we are still giving these Bonds a very wide berth. The "return free risk" has a tad more return than a month ago but the risk of further falls is still too high for us. These average Bonds are in for a rough ride.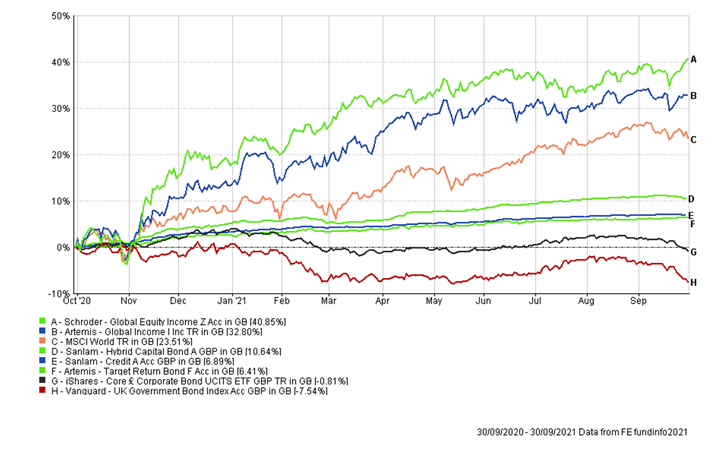 By contrast our Bonds, James Bonds, have dusted off their tuxedos, pulled out their cuffs and marched on. Our Bonds are more volatile than the average, which was uncomfortable in the 2020 dip, we must accept that. It is in their nature, they are active and aggressive not passive ducks! But, with their short duration and higher yields, like the real James Bond they bounced back quickly and have done a great job in the last 12 months. Nick (think Q) also added the new Artemis Target Return Bond fund, which has the weaponry to fight against rising yields. We added this fund with full expectation of the scenario of the last few weeks unfolding.
Our Bond managers are all acutely aware of the rising yield threat and have the tools to fight it, unlike the average Bonds which are likely to continue to be crushed. In fact, life gets easier for our Bond funds as rates rise and new issue Bonds come out at ever increasing yields. Who will be the next James Bond?
I added the MSCI world index to the chart above along with our two top global equity income funds. Whilst I know we suffered underperformance in these two funds versus the world index before last October, it is good to see that the post vaccine bounce was not just a flash in the pan and as Nick shows below, they have been good to own in the last few weeks. As the risk-free rate increases, the discount applied to future earnings by price analysts rises. This re-rating affects the prices put on companies which are very highly valued or where all of their earnings are expected further out in the future rather than imminently. This will continue to take the shine off growth companies which now dominate the MSCI world index and favour stock selected funds looking for current year income and companies which are undervalued.
Unlike with the Bonds where we are completely away from the average Bond, on this issue we are not completely one way or the other. We have spread our investments to be in both camps. High growth companies will likely provide the very best long term returns but with more rate rises likely to come we think it is prudent to keep the value and income positions which are also producing decent returns. As has been the case historically, these are once again proving to be a bit more defensive when indexes fall.