Investment
Market Updates
Model Portfolio 5 Year Anniversary
The start of September marked the 5th anniversary of the launch of our first three multi asset model portfolios designed with income drawdown investors in mind. At the time Tideway had around £150m of client money under management.
Five years on and Tideway's client's funds have almost trebled to around £440m. The model portfolios have been a big success and are a vital part of the Tideway Wealth service. They allow every client whether investing £300,000 or £3million to keep in step with and get the full benefit of the firm's asset allocation decisions, fund selection effort and portfolio design. With modern technology and our low-cost custody platform arrangements with AJ Bell, this comes at broadly the same annual percentage cost for every client.
More recently we have added a fourth multi asset Growth portfolio, along with three pure equity portfolios and three pure bond portfolios to allow for greater bespoke investment and tax planning by our wealth managers. However, the first three models now referred to as Multi Asset Cautious, Moderate and Balanced remain our most popular models with £40m, £160m and £130m invested in each portfolio respectively, amounting to approximately 75% of our client's money.
Portfolio Objectives and Construction
Each of these three portfolios were designed with three primary objectives in mind:
To support regular monthly withdrawals either immediately or in the near future
To generate positive longer term returns after inflation and after all fees
To have a safety cushion of fixed income investment to allow for withdrawals in the short term without having to sell equity funds in any downturn
This last point is vital as it takes away a great deal of the risk of funding income from an invested portfolio. It gives us the flexibility to invest for total returns in our equity funds without worrying too much how about dividends and avoids us inadvertently selling investments at loss, especially if they are likely to recover in value. Furthermore, the fixed income holdings give us far more predictable returns over 3-5 years than equity markets. The last 5 years have been great for global equity markets but we know and are prepared for the fact that it won't always be like that.
5 Year Returns Net of Fees
Of course, your specific returns will depend on when you started investing and how much you have taken out or added to your portfolio.
However, if you were invested with us on the 1st September 2016 and have not added or withdrawn from your portfolio, then the table below shows what investment returns you would have earned in each of the three portfolios. These returns are shown after an approximate allowance for all charges including Tideway's ongoing wealth management fee and the bulk of AJ Bell's fees for your SIPP, ISA and GIA accounts, custody and dealing.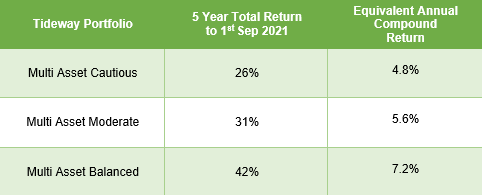 These Returns in Context
Against Inflation
Inflation has been relatively modest over the last 5 years, although of course inflation is hard to measure and will vary quite dramatically across different goods and services. FE Trustnet says the Consumer Price Index (CPI) is up by just 10%, compounding at just under 2% per year on average. I am sure that the price of a pint of beer in London is up by more than that, but CPI will soon be the index that all defined benefit pension schemes will be linked to.
Against this target the returns look good, we promised 1-2% p.a. above inflation after fees and have delivered 3- 5% p.a. above across the three portfolios.
Against Our Competitors
We look at the IA Mixed Investment 0-35% funds sector return for the Cautious portfolio and 20-60% for the Moderate and Balanced. These show that the average funds in the two sectors would have given our clients 14% and 23% if we allow for the same costs. Good to see we are well above average for our peers and have nicely covered our costs in outperforming the average multi asset fund manager.
Versus Other Investments
This is perhaps the most interesting area to reflect on, and always a bit frustrating when looking in the rear-view mirror. If we knew in 2016 what we know now we could all be millionaires!
Global equities have been the runaway winner powered by big US tech stocks such as Tesla, Apple and Amazon, with the MSCI World index up a thumping 89% after the cost allowance. As Warren Buffet says if things can't keep going up for ever, they won't, so it will be interesting to see how this index does over the next 5 years. It is worth noting this was also achieved with a 13% head wind as Sterling has slowly appreciated against the US dollar after the Brexit induced low of $1.22 to the current $1.38 to the pound.
The UK FTSE 100 by contrast would have given us just 20% after fees and returned significantly less than our highest conviction UK fixed income fund, with the Sanlam Hybrid Capital fund giving us 37% after costs.
In the defensive space, UK Conventional Gilts would have given us just under 3% for 5 years investing after fees, the most popular corporate bond ETF 11%, UK Index Linked Gilts 16% and physical Gold 25%.
What Went Well, Not So Well and What Have We Learned
Generally, we are pretty happy with the returns, although there is always room for improvement. Our views on avoiding UK gilts paid handsomely and we have not missed any returns by staying loyal to the fixed income funds versus spreading wider into Gold or index linked bonds. We don't see this changing any time soon, we are more bearish on UK gilts now than at any time previously.
We had strong views from as early as 2012 that we would rather lend to UK banks and insurance companies than own their shares and this has also paid off well, although it hurt our returns in 2018 when we were still underexposed to global equities. Our value equity managers have been benefiting from a recent up-tick in some UK FTSE 100 shares recovering from deeply discounted prices in 2020, let's see if this continues. We certainly feel this needs active management, with its heavy Oil bias the FTSE 100 is not an index we want to invest in significantly, nor for the long term.
It has been great to get two big Global manager winners on board. Ballie Gifford's Global Alpha fund and Dundas's Heriot Global fund both out-performed the MSCI world index making 135% and 108% respectively after the fees allowance over the last 5 years. Having owned them for several years now its testament to our manager selection process that they remain on our high conviction list, let's hope we can own them for ever! Nick Gait had a session with one of the Ballie Gifford partners and managers this week which we will share in coming updates.
Perhaps the biggest gain of all came from staying fully invested through the 2020 Covid dip and hats off to the investment committee for sticking to their principles. It is hard to do, but a great lesson in keeping your head when others are in panic mode. It also proved the value in the time horizon planning of the portfolios in that we did not have to sell any long-term funds to maintain withdrawals throughout the year as investments quickly recovered.
This real-life stress test proved that the fundamental design of the portfolios is good.