Investment
Market Updates
Tax
Inflation Bites
As the war in Ukraine passes 50 days, the likelihood of a peace settlement recedes and a long-drawn-out event looks ever more certain. Covid has been pushed into the background as it is clear the latest variant, whilst highly contagious, is much less nasty, especially to those who have been vaccinated. Apart from in Ukraine and Russia life is slowly getting back to normal. 

Inflation is the current focus of most market commentators. It is a notoriously difficult economic phenomenon to predict but as it rises to levels not seen since the 1980's it is causing some big short term price movement in investment markets as well as pain to consumers and particularly defined benefit pensioners as real incomes fall.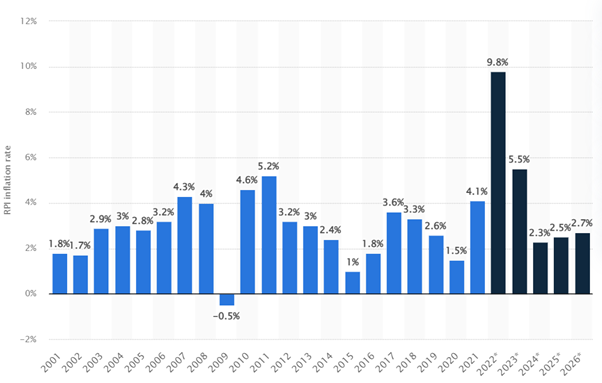 Source: Statista 

The chart above shows historic and forecast inflation in the UK. The 2022 rate is effectively baked in. We rely on Andrew Bailey and the Bank of England for the 2023,24,25 26 forecasts (bound to be right then!). These forecasts do however reflect a consensus view that this will be a short-term spike, which in itself causes worries for markets as central bankers try to do the right thing. Will they be too slow at raising rates gauging that inflation will be short lived but running the risk it continues to rip, or will they overtighten causing recession. 

What we know is that if you are on a fixed income, and it is not rising with RPI, these levels of inflation really hurt. Pity the poor steel workers who did not transfer out of the British Steel DB pension scheme in 2017 as the scheme was restructured and benefit indexation slashed. By 2023 deferred pensioners will have seen a real loss in income of 10% in 7 years as they wait for their pensions to come into payment and pensioners already in payment are going to lose 7% in just one year in 2022 with the increases in pensions in payment from the new British Steel scheme capped at around 2.7% per year. This is hardly 'secure' income. 

The same pain will be felt by companies where production costs; wages, materials and supply costs all go up, but prices remain competitive and can't rise at the same rate. By contrast those companies whose incomes are linked to inflation will have faster growing profits and go up in value. 

A good example of this in UK shares we are familiar with is National Grid announcing forecast beating profits as electricity prices rise. Versus Unilever, name checked by Alan MacFarlane in my recent interview with him and manager of Heriot Global, as a stock he was shunning and where cost rises will have undoubtedly eaten into margins.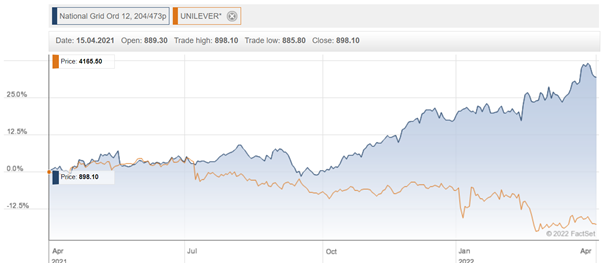 Source: Hargreaves Lansdown National Grid is the top holding in our Clearbridge Global Infrastructure fund which as well as paying a thumping big 4% yield has been a top performing fund in its sector and made 25% in the last 12 months significantly outperforming global equities (B in the chart below) by some 15%, all since the start of 2022. Well done to Nick Gait for picking such a good manager and giving portfolios a significant weighting, which has now added a valuable contribution to our overall portfolio returns.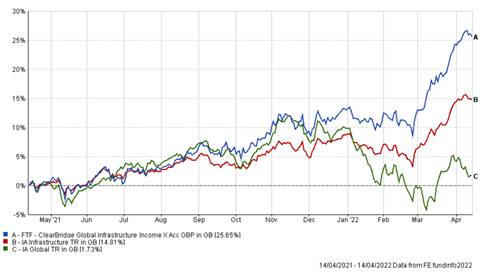 Source: FE Analytics The debate continues over value stocks versus growth and whether a likely recession in Europe, where stocks are cheaper, is outweighed by a stronger economy in the US, where prices are higher. However, the bigger issue for the foreseeable future for most companies, investors and consumers will likely be inflation.