Investment
Market Updates
Retirement
Tax
Budgets & Inflation
No change for whisky drinkers, but lovers of fruit ciders can rejoice, I have one daughter partial to these abhorrent (IMHO) drinks!
Not too much else caught my eye. Around £10bn of green commitments is a significant number and reaffirms our view that green agenda's will create economic activity in coming years.
After weeks of speculation in the press; no changes to capital gains tax rates and no changes to pension allowances or pension tax-free cash sums. The freeze in nil and basic rate income tax bands for 5 years means we will all be paying more income tax in real terms.
Some planning tips talking to our advisers:
Most people were expecting some levelling off between capital gains tax rates versus income tax rates, this has not happened. Where you have funds to invest outside ISAs and pensions, investing for capital gains will continue to be significantly more tax efficient than investing for income.
Investing in pensions continues to be very attractive up to £1.073 million. Helping young adults start their pensions savings early is also a great tax efficient way to start intergenerational transfers.
Those tax band freezes will bite over time. Income tax is going up on real incomes, so tax efficient planning using ISAs to avoid income tax and Offshore Bonds to defer tax on larger sums will be as important as ever.
The most interesting topic of the week was unquestionably inflation with Rishi signing consumer price indices (CPI) of more than 4% over the coming year. But is it just a spike or will it continue? Consensus is building that it will be a spike. Like the petrol shortages, a real pain as it happens but not something we should expect to continue long term.
UK Gilt prices certainly seem to be voting 'spike' with 20 year yields falling sharply since the first week of October reversing more than half the gains made in September and early October. US yields have similarly tipped down but not as steeply. That UK borrowing looks under control could explain the steeper falls in gilt yields.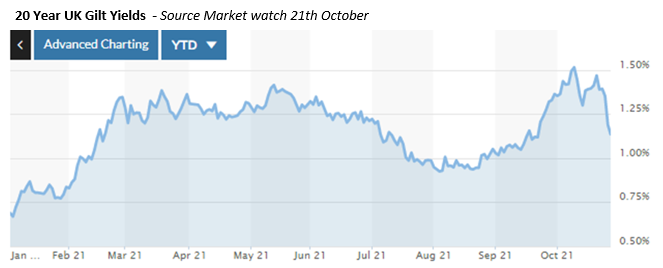 Our macro-economic analysts are pointing at a decline in China growth to explain why monetary tightening and inflation might not be a strong as some expect. To quote predictions made this week by Freya Beamish, TS Lombard's newly appointed Head Of Macro Strategy:
Stagflation scares will prevail for some time, generating volatility at best, with supply shocks reverberating more seriously than before Covid.
But CPIs will dis-inflate across developed markets from early next year at the latest.
And China's slowdown and RMB depreciation will be a gravitational force for markets next year.
As risk free yields declined, equities and bonds went on the march again and our portfolios have recovered most of their recent declines and are nudging new highs. Some strong earnings in the US and the news that Hertz was ordering 100,000 Tesla cars boosted confidence.