Investment
Market Updates
'Blood, Sweat, Toil, & Tears': An Interview with Alan McFarlane – Fund Manager, Heriot Global
Markets continue to be unpredictable with central bank hawkishness causing concern amongst market participants. After a couple of strong trading days earlier in the week, gains have all but been handed back proving the folly in attempting to predict market moves over short time periods. We will leave this to the day traders.
As highlighted in previous communications we expect volatility in 2022 to remain elevated, in contrast to the relatively benign conditions seen in 2021. With this in mind, we will continue to preach a long-term approach and to remain invested in the face of any negative developments which may or may not come to fruition over the course of the next year and beyond. As a reminder, below are some considerations:
More or less impossible to time markets with any consistency.
Once disinvested, the reinvestment call is an even harder one with markets often rebounding quickly over just a few trading days. Missing just a few trading days can ruin the year's performance and a sure-fire way to underperform over the longer term.
Markets trend upwards over the longer term – Short term driven by noise; Central Bank policy announcements, Omicron developments & Russia/Ukraine crisis etc.
Our managers will tweak their portfolios should developments lead to changing longer term trends. We will alter our allocations should we deem necessary.
There is no return without risk
Introduction to Dundas Global Investors:
In keeping with our long-term approach to investing client capital, James Baxter, Partner and Head of Tideway Private Clients interviewed Alan McFarlane, Senior Partner of Dundas Global Investors and Fund Manager of Heriot Global; the link can be found at the bottom of the page. Without spoiling what Alan has to say please find below some details of the strategy, including an overview of the strategy, why Tideway like the product and top ten holdings of the fund (as per the latest factsheet).
Heriot Global Summary:
Launched in March 2013 – Fund Size c.£230m.
65-75 Global Equities – Market Cap. > $2bn.
Aligned with the biggest factors driving long term total return; dividend growth + dividend yield
High quality sustainable businesses growing their revenues, profits, cashflows and dividends
Typically plays defence well with strong downside capture
Outperforming Investment Association Peer group and MSCI World Index over 3- and 5-year periods
Why Tideway are invested:
Team – Very stable and experienced team with the 'junior' members having been analysts since the inception of the fund. The company's employee-owned structure ensures retention of key staff.
Capacity – Relatively small strategy AUM. Combined with a good liquidity profile this eliminates any capacity concerns over the short to medium term. Total cost of just 0.74% also extremely attractive when compared to the peer group. Funds charging less than this figure typically have much higher AUMs leading to potential capacity issues.
Investment Process: Differentiated investment process sifting through all available companies in the universe leaving no stone unturned. An alternative methodology to industry standard screening process.
ESG – Identifying companies with sustainable growth. All ESG considerations are integrated into the investment process. Consistent engagement with company management is another positive factor.
Valuation: The team will not pay for growth at any cost with company valuation forming a core part of the process. Regularly self-analyse to identify any shortcomings in sell discipline.
Top 10 Holdings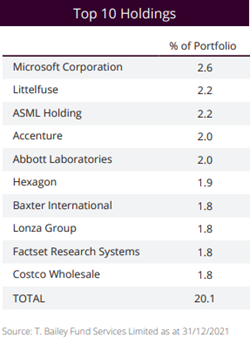 Alan McFarlane Bio:
Alan's investment career began in 1980 in private equity at what is now 3i Group. He joined Ivory & Sime plc in 1983 to manage global equity portfolios. Before starting Dundas in 2010 he was CEO of Walter Scott & Partners Ltd, an Edinburgh-based global equity manager acquired by BNY Mellon in 2006.
He is the former Chair of the endowment fund of the University of Edinburgh and holds a degree in Politics and Modern History from the same institution.
The recording is slightly longer than initially anticipated so please feel free to use the tags to navigate around.
0 mins – Introduction to Dundas
12 mins – Investment Philosophy and Compounding:
23mins – Covid & Lockdown/ Changing Trends
31mins – Market Volatility
35 mins – 'Macro' view
38mins – Inflation implications